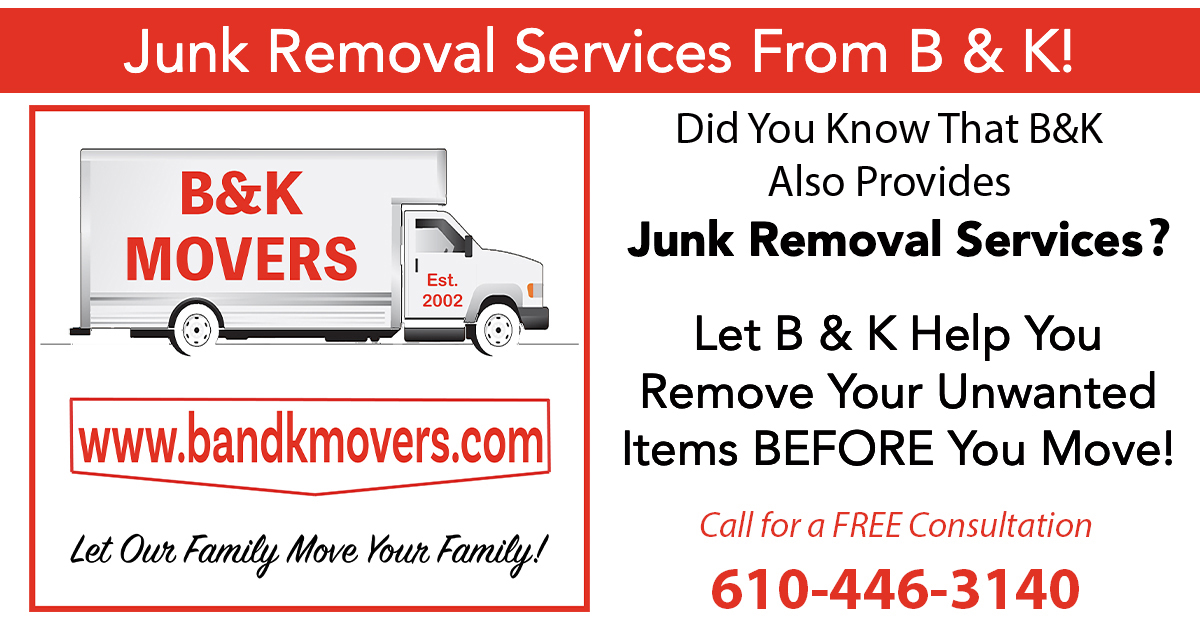 Junk Removal Services from B & K Movers!

Did you know that B & K Movers offers junk removal?  We talk about purging a lot in our blogs and it is a great way to remove clutter, save money, and even MAKE money.  De-cluttering will make moving day easier, but removing clutter is a great thing to do if you're moving or not.  It frees up space and storage!  You can save money by having to pay less on moving day, and you can make money by selling items on eBay.  For more tips, visit our Blog, Movin' On Up!

So what do you do with items you can't seem to sell, you get rid of them, and that's where B & K Movers can help!  We take the same great care when inside your home with your junk removal as we do on moving day!  We will plan your removal with you and dispose of it properly and in the best way environmentally.

If looking to have a few items removed, simply call or send us an inventory listing via e-mail (

[email protected]

) and we can give you an estimate.

We will not dispose of Hazardous Materials.

Whole House Cleanouts

In addition to Junk Removal, we also provide "whole house cleanouts".  Did you purchase an investment property that needs to be emptied out?  Perhaps an elderly relative passed and you need to empty out their home contents.  Whatever the case may be, B & K Movers can help!  For whole house cleanouts, we typically have a dumpster dropped and will fill it with the contents of the house and have it picked up.

Call us today at (610) 446-3140 and we can discuss your needs.

Your delaware County Movers

At B & K Movers in Havertown, PA, we appreciate you and your business!  We love our clients and want to ensure their move is as stress-free as possible.  In doing so, we take pride in making sure we help to protect all your assets.

When you are packing, make sure you have sturdy boxes and double tape the bottoms to ensure your valuables are properly packed and protected.  Also, we recommend when packing fragile items (i.e. dishes and china), you layer the bottom of the box with crumbled packing paper or news paper and wrap each item  individually with packing paper or bubble wrap.   Please be sure not to over pack the boxes, heavy items (i.e. books, cd's, and movies) should go in smaller boxes to keep them to a manageable weight.   Every box should be labeled with it's intended location to make for a quicker unload.  For a listing of supplies offered by B & K, click 

HERE

.

B & K Movers prides themselves in treating your possessions as if they are their own!  Additionally, we are licensed and insured, friendly and offer over 35 years of experienced.   If  moving is in your near future, please give us a call!  Visit our website's 

Blog – Movin' On Up

 for more tips and information.