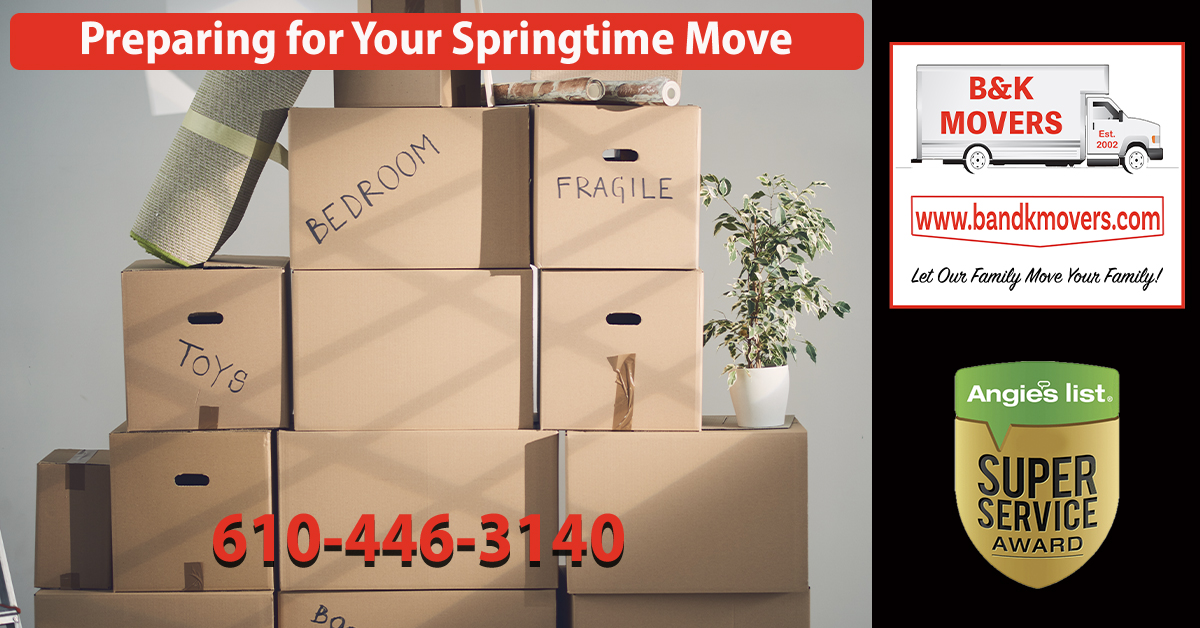 Helpful Tips for a Spring Move
If you are planning for a Spring move, it's time to get started!  You need to take a bit of time every day to purge, categorize and clean.  This way on moving day, you will be ready to go!  Moving is a stressful moment, but planning it shouldn't be the cause.  So B&K has put together some more helpful tips to help you prepare.
Sort Your Items
How does your new home compare to your current home? Is it bigger? Smaller?  Are you just starting out as a homeowner instead of a renter? How it differs will determine what to look for as you go through your belongings. If you're downsizing, set aside unwanted items to donate or sell. If you're moving to a new environment, think about what items you're missing.
Begin Packing
After choosing B&K, you are going to want to start packing! Start as early as possible to avoid unnecessary stress. Begin by ordering boxes and other supplies, and be sure to sell, donate or throw away any items you haven't used in a while or won't use in the future.
Talk with Your Family
Moves bring up a lot of emotions. Whether happy or sad, you'll need to be prepared to handle the adjustment. Children can be especially affected by changes in schedule and environment, and may require some extra help and attention during the transition. Similarly, pets can get stressed in new situations, so be on the lookout for changes in behavior.
About the new home
Does your new home have room for a garden?  If so, you may still want to start germinating your seeds for the plantings in your new home.  If you have a good relationship with your new home's current owners, ask if you can grab some soil from your future yard.  This will help ensure a healthier transplant when the time comes to put your seedlings into the outside ground.  Also, you may want to start considering slowly purchasing new paint and fixtures, to avoid a huge bill after you moved.
About Your Current Home
Your old home is going to be someone's new home.  Show them the same courtesy that you hope your new home's previous owners will show!  Clean your home thoroughly.  Patch holes and vacuum.  Don't leave unwanted items behind.  Carma can be a bitch.  Be kind!
YOUR DELAWARE COUNTY MOVERS
At B&K Movers in Havertown, PA, we appreciate you and Your business!  We love our clients and want to ensure their move is as stress-free as possible. And we take pride in making sure we help to protect all your assets.  Please look for more tips in our next blog! At B & K Movers, we treat your possessions as if they are Our own!  Additionally, We are insured, friendly and experienced.   So if you are planning to move soon, please give us a call!  Visit our website's Blog – Movin' On Up for more tips and information.  And please follow / like us on FaceBook and Instagram!