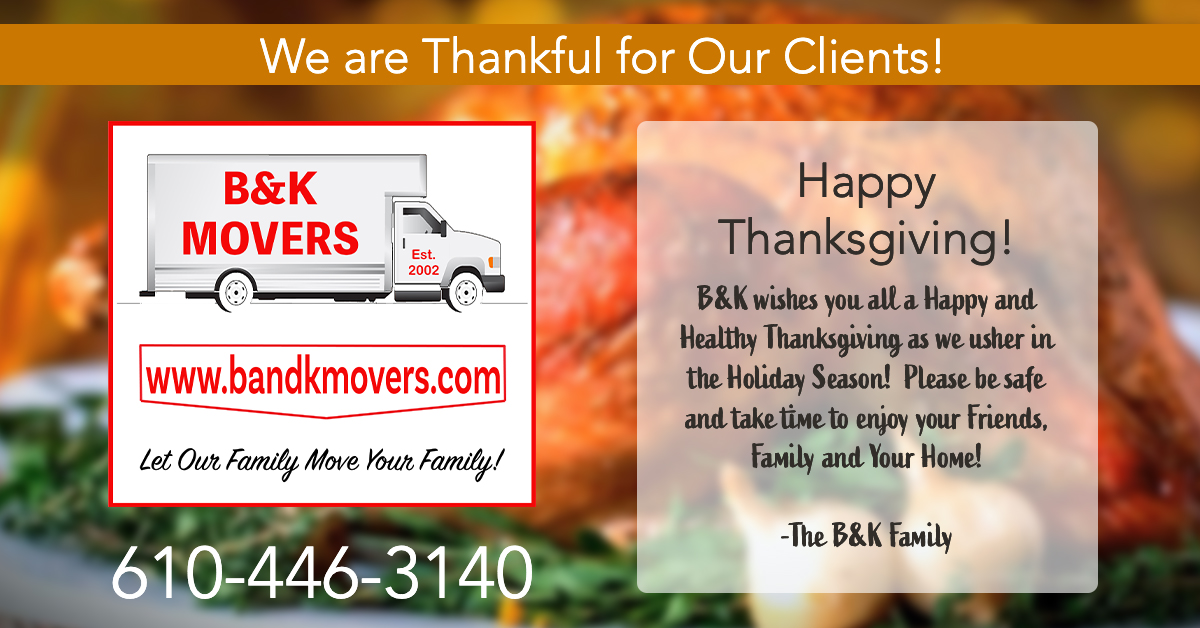 Happy Thanksgiving from B&K Movers!
From Our Family to Yours, Happy Thanksgiving!  During the Holidays, we often think about the Families, who we have moved into their new homes over the years!  We hope you are all very happy, safe and secure.  Furthermore, we love that we played a role in helping you move into your homes.  We are so thankful that you chose B&K Movers to handle such an important task.  We Love Our Clients and appreciate you!
For all of you who are planning a move soon. please consider B&K for your move!  We treat your items as if they are our own!  Like we always say, "Let Our Family Move Your Family"!
What Can you learn from the holidays?
If you like to host your Family & Friends for the Holidays, you probably have that space in your home where you keep your decorations, your holiday themed dishes and your Grandmom's giant roasting pan!  A great way to start cutting some clutter is to look at everything that you did not pull out and use and get rid of them.  Sentimentality aside, you probably don't need three butter trays and a half dozen candy dishes.
Another thing to consider if you are thinking of moving is the layout of your new home.  Are you jammed in at your current home?  Would you prefer an open floor plan?  Is there a room to escape and watch football?  All these things are components, which can help you have a Happy Thanksgiving!
YOUR DELAWARE COUNTY MOVERS
At B&K Movers in Havertown, PA, we appreciate you and want to once again wish you a Happy Thanksgiving and Holiday Season!  We love our clients and want to ensure their move is as stress-free as possible. And we take pride in making sure we help to protect all your assets.  Please look for more tips in our next blog! At B & K Movers, we treat your possessions as if they are Our own!  Additionally, We are insured and experienced and appreciate your business.  So if you are planning to move, please give us a call!  Visit our website for more tips and information.  And please follow / like us on FaceBook and Instagram!