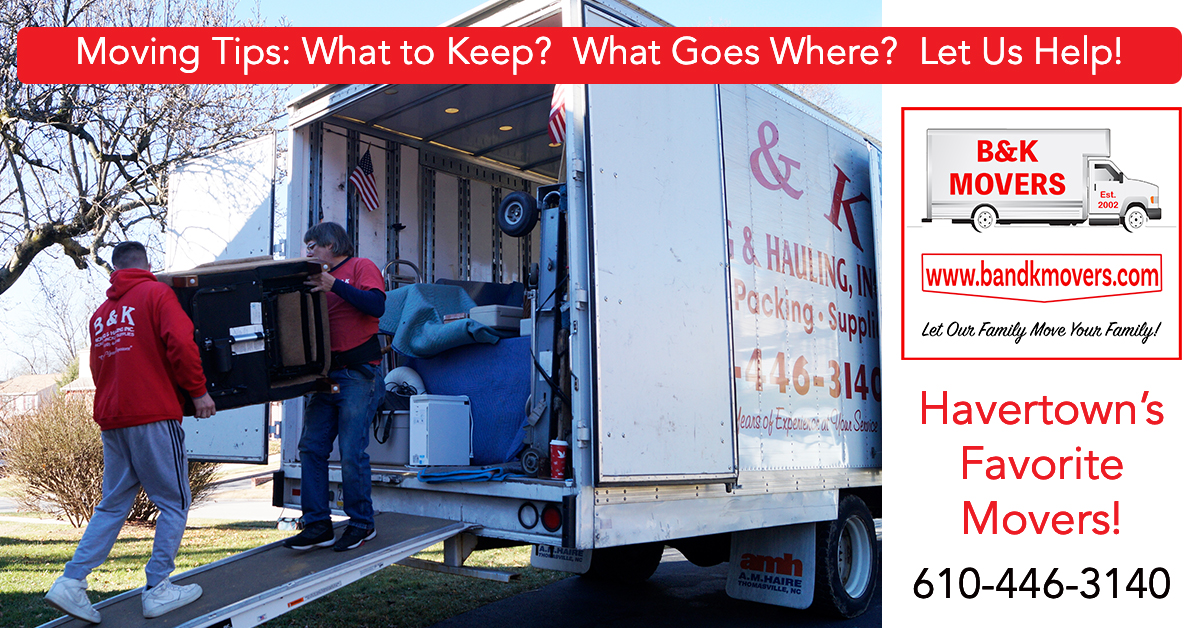 Keeping or Purging before you move
Keeping or purging your household items can be a struggle before you move.  We've discussed this before.  But our Customers still ask us for advice on this all the time.  In addition, they want guidance and a timeline.  At B&K, we are happy to oblige.
Keeping
You know what items you are going to keep.  Key Furniture like beds, couches, Dining Sets are all staying.  Then there are the items you use often.  You know which appliances you are going to keep.  You also will keep your computers, TV's, coffee maker, Bluetooth speakers.  Family photos, plates and cutlery, your favorite clothes (more on clothes in a bit!) and lighting will all tag along.  The point is, if you use it, keep it.
Purging
But then you have to take a hard look at items, which you can let go.  Do you even play your CD's anymore?  When is the last time you used your bread maker?  Items like these take up space and may not be greatly missed.  The same can apply to outdated artwork and decor.  Will the items, which adorn your walls even be a good fit for the style of your new space?  The good news is that these items all have value.  You can sell them on eBay, FaceBook Marketplace or at a flea market or yard sale.  You would be surprised at how much your old stuff is worth.  If You don't use it, lose it!
On the Bubble
Some items are "On the Bubble".  You are not sure about keeping or purging these things.  Tennis rackets, beer can collections, specialized tools, mini fridges, ice skates and bamboo steamers are all enjoyed very occasionally.  So what do you do with all this stuff?  Have you considered a storage facility?  For about $100 per month, you can slowly store items that may or may not make the trip.  This will help you to continue to prepare for your move and you know you are definitely keeping everything that is in your current place.  Give yourself about 6 months to prep for this.
So if you use it – keep it, if you don't use it – lose it and if you're not sure – store.
YOUR DELAWARE COUNTY MOVERS
We hope you found these tips useful!  Please look for more in our next blog! At B & K Movers, we treat your possessions as if they are Our own!  Additionally, We are insured and experienced and appreciate your business.  So if you are planning to move, please give us a call!  Visit our website for more tips and information.  And please follow / like us on FaceBook and Instagram!