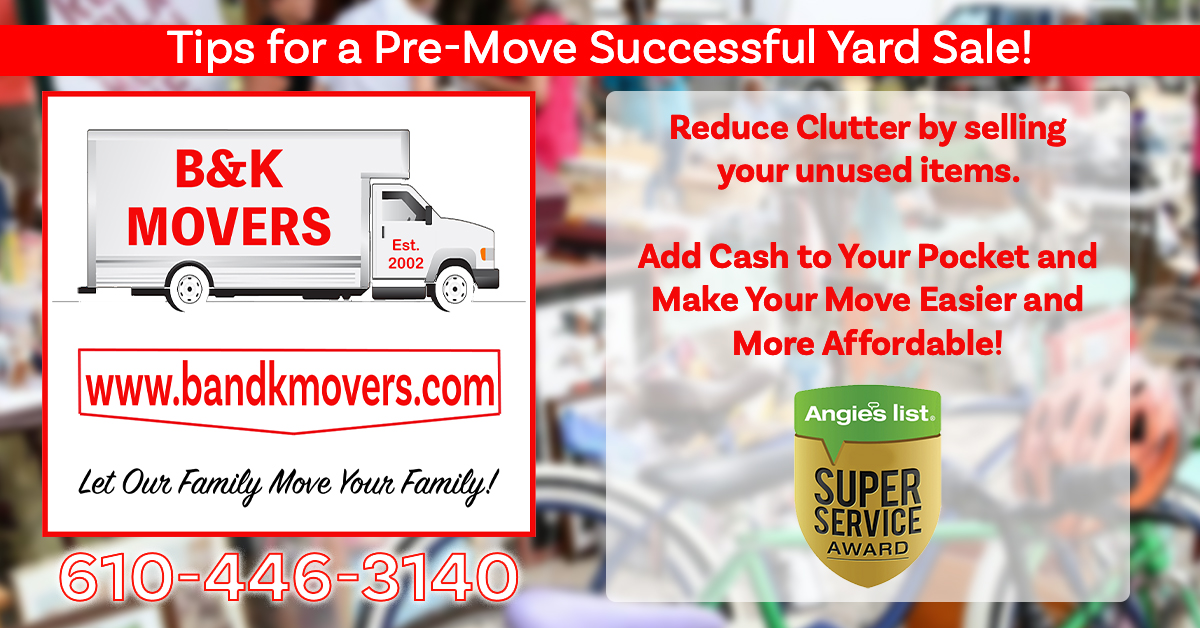 Save Time and MAke Money with a Pre-Move Yard Sale!
A Yard Sale is a great way to make some money and to make your moving day easier!  Less items to move could translate to a smaller of fewer trucks and a smaller crew.  Therefore, you could save some time, effort and money!  The following are some tips for having a successful yard sale:
Choose the right time
Traditionally, Saturdays and Sundays are considered prime times for yard sales, particularly in the warmer months. In addition, keep an eye on the weather. If rain is in the forecast, there's a good chance you won't get the best turnout for your garage sale. Do your best to choose the day that offers decent temperatures and clear skies.
Advertise your sale online
There are plenty of free places where you can advertise your garage sale online in the weeks leading up to the event. Craigslist is a great place to start, but beyond that, you can look for local yard sale groups on social media sites such as Facebook. Additionally, don't forget to advertise the sale on your own profiles. Sometimes family and friends can be the most dedicated customers.
Know what you should and should not sell
The following types of items tend to do well at yard sales:
Furniture (in particular, vintage or antique pieces)
Sports or workout equipment
Houseware, especially cookware and small appliances
Tools
Working appliances
Kids' toys
Clothes with no stains, holes and in good condition
Meanwhile, these items usually do not go over as well with shoppers:
Intimate clothing, such as bathing suits or underwear
Mattresses
Used beauty or hair products
Out-of-date electronics
Baby safety gear like cribs and car seats
Clean your items
After settling on your inventory, the next step is to clean every item. While this may seem like a lot of work, we're willing to bet it will be worth it. Put simply, clean items are more likely to catch the eye of potential buyers and sell for a higher price.
Label everything with price tags
When you're finally done with all your cleaning, it's time to label each item with a price tag. If you aren't sure where to start with pricing, look at the prices of pre-owned similar items for sale online and undercut them by 10-20%.
Draw traffic with directional signs
Placing directional signs with arrows all around the neighborhood is the classic way to advertise a yard sale. Start with putting up a large sign by the busiest intersection close to your home. Then, fill in with directional signs that will point interested shoppers toward your house. Finally, put one last big sign on your front lawn so everyone knows they've arrived at the right place.
Group Similar Items Together
As you begin to put out your items, be sure to arrange them thoughtfully. In particular, make an effort to group similar items together. Having this level of organization will make it easier for shoppers to zero in on the specific items they intend to purchase.
Leave Room to browse
At the same time, it's important to try to keep your tables from becoming too crowded. If it's hard for shoppers to see the items that are available, they are less likely to buy from you. Be sure to leave enough space between each item for it to stand out.
Be prepared to make change
Even though we now live in a society where it's more common to use a credit card than to have cash on hand, garage sales are still largely a cash-based business. To that end, you're going to want to be prepared to make some change. Stop at the bank before your garage sale starts and get a few small bills and coins to help you make it through until items really start selling.
It's also a good idea to offer an alternative payment option for those who don't have small bills on them. You may want to consider accepting payment through an app like Venmo or Apple Pay, especially for larger ticket items. But make sure the payment goes through before they leave with your stuff!
Be ready for hagglers
Even though you took the time to put price tags on all of your items, there are still going to be people who try and haggle. It's in your best interest to be open to their offers. After all, there's a reason you decided to make these items part of your inventory in the first place, and receiving some money is better than not getting any at all.
If there are one or two pieces you feel are truly worth the money, do yourself a favor and write the word "firm" on their price tags. This will give interested shoppers the heads-up that you aren't willing to barter for those items. Plus, it will save you time and energy.
Donate your unsold items
Once your sale is over, consider donating any unsold items the same day. Not only will this help you avoid having to lug your inventory back into the house again, but it will also allow you to have the satisfaction of knowing you gave back to your community.
YOUR DELAWARE COUNTY MOVERS
At B&K Movers in Havertown, PA, we appreciate a move can be hard on everyone! We love our clients and want to ensure their move is as stress-free as possible. And we take pride in making sure we help to protect what you collect.   Please look for more tips in our next blog! At B & K Movers, we treat your possessions as if they are Our own!  Additionally, We are insured and experienced and appreciate your business.  So if you are planning to move, please give us a call!  Visit our website for more tips and information.  And please follow / like us on FaceBook and Instagram!
Source:  Ownerly