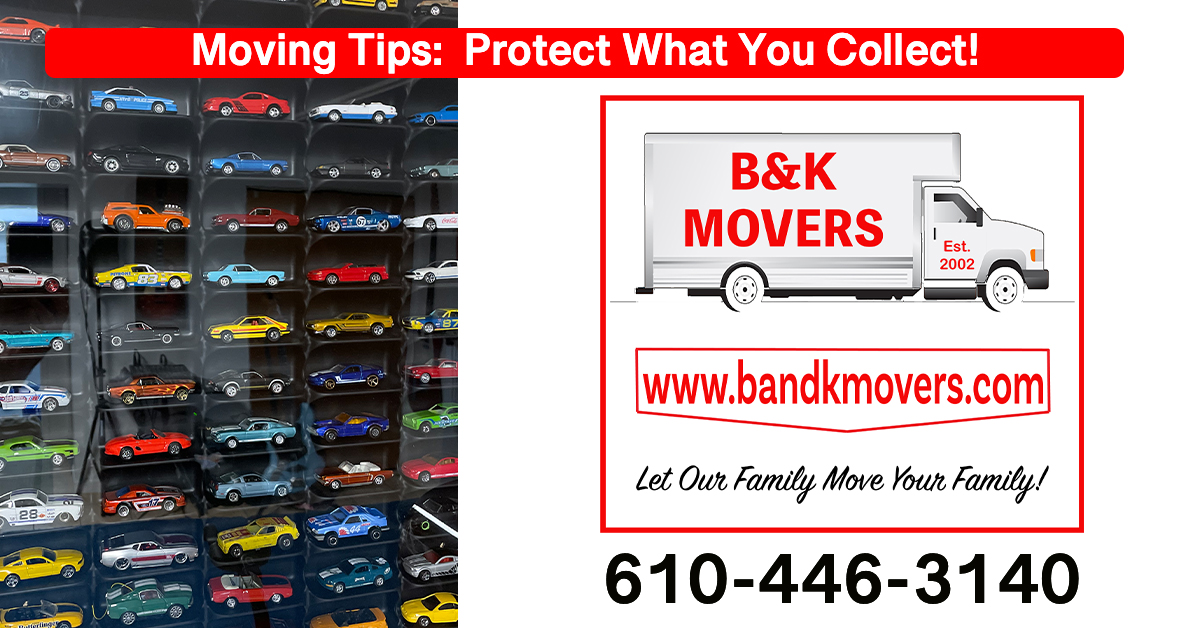 Protect What You Collect with These Tips!
B&K Movers can help you protect what you collect!  You may collect MatchBox Cars, Baseball Cards, Art, Autographs or Stamps.  WHAT you collect doesn't matter to us.  All that matters is that we appreciate how valuable your collections are to YOU!  So we handle your collectibles with the same level of care we do with all of your possessions.
Furthermore, we can offer advice on how to best pack and secure your collectibles.  Make sure everything is securely wrapped.  In addition, make sure to keep the weight of the packages to a manageable degree.  An extra trip or two to the moving truck is worth it!  And finally, you may want to consider an additional policy to insure your collections.  Here is some info which will help you protect what you collect:
Collecting as a Hobby and an Investment
We're a nation of collectors, and more and more of us view our collectibles as alternative investments, a valuable way to diversify our assets. According to a recent survey, one in three adult Americans reports they collect some type of physical items. Whether they're amassing sports memorabilia or stamps, trading cards or toys, fine art or fine wine, nearly three out of four of these collectors say that one of the reasons they collect is that they view their collectibles as a financial investment.
For some, collecting is a side hustle; for others, a livelihood. If you're among those who collect as part of an investment strategy, and not merely as a hobby, you'll want to give serious consideration to protecting your investment with specialty collectibles insurance.
Here are three key reasons why:
The right policy will protect your collection against a wide range of losses, including accidental breakage and theft, loss in the mail as well as during travel, and damage from fire, flood, and natural disasters.
Your homeowner's policy probably doesn't provide the coverage you need. HomeOwner's insurance does a good job of protecting easily replaced property, but usually it falls short when it comes to providing the coverage your rare collectibles require. For starters, the policy may deny coverage of your collectibles entirely. Even if the policy does offer coverage, it will likely be based on the cash value of your collection and not the market value, and may not cover losses caused by floods, hurricanes, or earthquakes. What's more, homeowner's insurance may limit personal property coverage to a percentage of your home's value. If your collection of, say, vintage guitars or antiques is worth more than your home, you'll be facing a big, and potentially costly, gap in coverage.
A well-chosen specialized insurance policy provides peace of mind that's affordable. You may be surprised to learn how little it costs to protect your collection. For example, Some Insurance Services offer protection for as low as 20 cents a day.
YOUR DELAWARE COUNTY MOVERS
At B&K Movers in Havertown, PA, we appreciate a move can be hard on everyone! We love our clients and want to ensure their move is as stress-free as possible. And we take pride in making sure we help to protect what you collect.   Please look for more tips in our next blog! At B & K Movers, we treat your possessions as if they are Our own!  Additionally, We are insured and experienced and appreciate your business.  So if you are planning to move, please give us a call!  Visit our website for more tips and information.  And please follow / like us on FaceBook and Instagram!
Insurance Information Source: Investopedia