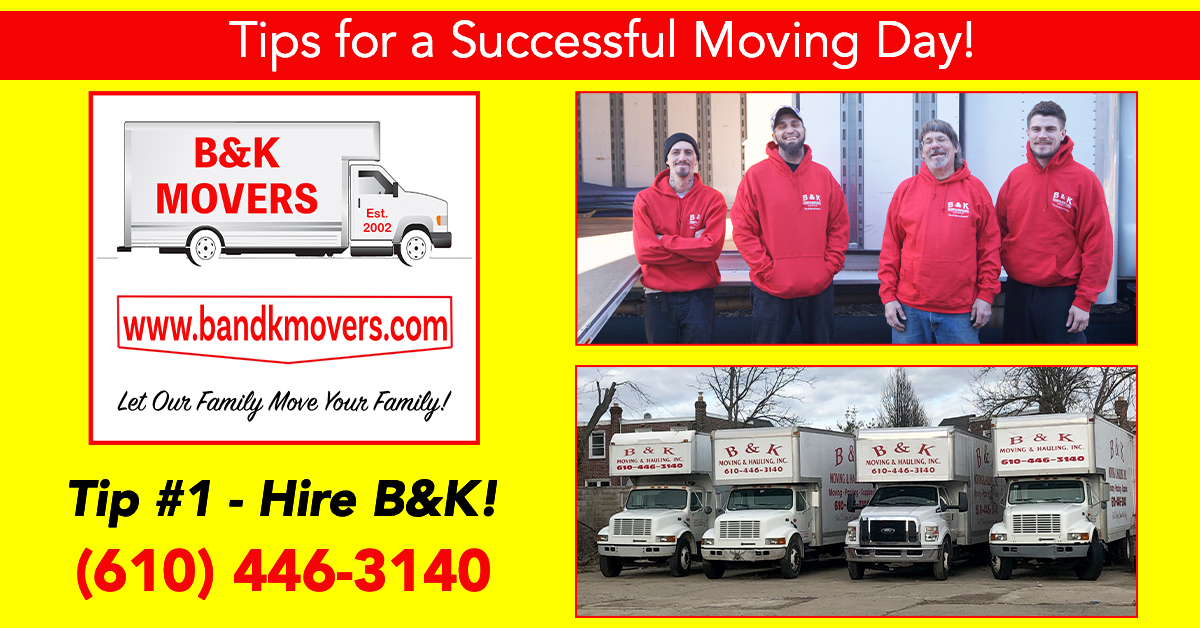 Let's Help You Prepare to Move
There are a number of ways to successfully prepare to move. There are a lot of steps to check off in between deciding that you want to relocate and successfully executing it. From packing and planning to figuring out how on earth you're going to unpack and organize everything once you're finally done, you'll have to juggle quite a hefty to do list before you can finally sit back and relax in your new home. And then there's moving day itself. Even the best of planners can find moving day to be overwhelming and exhausting, but fortunately, there are ways to make it go at least a little bit easier. Follow our moving day tips for advice on how to make sure everything runs as smoothly as possible.
Keep a running list of all the little things that have to get done to Prepare to Move


Certain moving-related jobs have a way of piling up as soon as the truck is on its way. Did you take out those last trash bags? Clear off the gunk in the shower that you swore you would get to before leaving? Empty the fridge and freezer? These small but important tasks often get pushed aside while you're focused on packing, but can leave you scrambling at the last minute if you're not careful. Instead of frantically trying to remember all the little things you have to get done on moving day, keep a running list going that outlines everything you'll have to do. That way, you can prioritize your time and wake up a little bit earlier if necessary so you have time to get everything done before you leave.

Put into place kid or pet arrangements early in the morning


Having kids or pets running around can complicate moving day. It can also be dangerous for little ones—two legged and four. Ideally you've already figured out plans for your kids or pets prior to moving day, so it's just a matter of putting those plans into place early. If you have a friend or family member who will be watching them for you, schedule a pick-up or drop-off first thing in the morning so you can focus entirely on everything else that needs to get done. If your kids or pets will be sticking around, do what you can to keep them busy and out of the way (iPads and chew toys will go a long way).

Pack a cooler


Moving day generally requires a lot of heavy lifting, which in turn requires a lot of energy. It's easy to get distracted and forget to eat or drink enough, which is why having a cooler packed with waters and grab-and-go snacks is a good idea. Fill it up with high-protein, low-mess foods, such as bags of nuts and dried fruit, pre-made sandwiches, and protein bars. You may also want to consider packing a little bit extra for your movers. You'll be very glad you have your stocked cooler available when you start to feel exhausted mid-way through the day.

Don't forget your moving essentials bag


A moving bag or suitcase you pack up with anything you know you'll need on moving day and the day after, as well as crucial documents and valuables you don't want to put on the truck. Include things like phone chargers, toiletries, medications, and a couple extra sets of clothes. Keep it in your car or another designated place where you can ensure it won't end up getting loaded for transport.

Make sure your phone is fully charged


You probably won't have a lot of time to sit on your phone playing Candy Crush on moving day, but you should still be conscious of having a full charge. You never know if you might get lost on the way to your new place or need to coordinate timing with your movers. Keep your phone plugged in the night before your move, and store your phone charger in your essentials bag so in the event you do drain your battery blasting your moving day playlist, you can easily charge it up again.

Leave out some basic cleaning supplies


Hopefully you've already done your deep clean, but even so you should still keep basic cleaning supplies available for any unexpected touch ups. A broom, dustpan, and container of sanitizing wipes should be sufficient. Just like your essentials bag, keep your cleaning supplies somewhere they won't get loaded on to the truck—your car or a closet should be fine. Once the boxes are cleared out and the space is empty you'll be able to see if any last-minute cleaning needs to get done.

Do one last walk through


Anything you leave behind might be difficult to get back, so do a thorough walk through of your home and keep an eye out for anything you might have forgotten. Open all of your cabinets and check every single one of your closets (including the very backs of shelves) to make sure that anything you plan to take with you is packed and ready to go.
YOUR DELAWARE COUNTY MOVERS
We hope you found these tips useful!  Please look for more in our next blog! At B & K Movers, we treat your possessions as if they are Our own!  Additionally, We are insured and experienced and appreciate your business.  So if you are planning to move, please give us a call!  Visit our website for more tips and information.  And please follow / like us on FaceBook and Instagram!
We are hiring!
B & K Movers is hiring for laborers and drivers!
-Must be able to meet daily at the lot off of Oak Lane in Clifton Heights
-Able to lift/carry large and heavy furniture/equipment
-Driver:
-Clean driving record
-Pass a DOT physical
Schedule:
-Monday – Saturday
Job Types: Part-time with availability for full time hours
-$14.00 $20.00 per hour based on experience
To apply or for more information regarding open positions, please call B&K Moving at 610-446-3140 or 
email us
!
Source: moving dot com