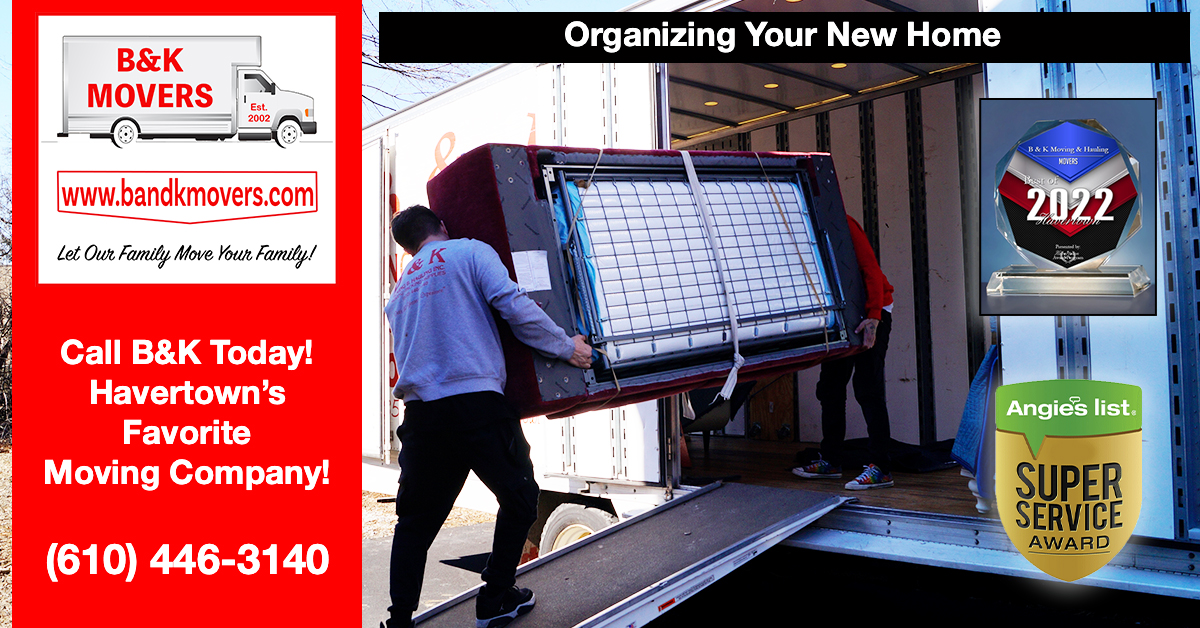 Handy Tips for Organizing Your New Home
When you are organizing your new home, there is a lot to think about.  Furthermore, you need to learn from your old home's challenges.  If at all possible, take pictures of your new home before you buy it.  This way you can sit down and reference storage spaces and the flow of the home.  If you can do this, it will make it much easier to plan where the movers place everything.
Hopefully, you have discarded items you don't need before you packed!  Did you sell anything at flea markets or have a yard sale?  Purging before you move will ensure a less cluttered new home.  In addition, the pictures you take will help you decide which furniture pieces will go where.  It is fun and exciting to plan for the next phase in your life!
Labeling Your Boxes
Thorough labeling your boxes is a tremendous help.  Instead of just marking "Kitchen" on the box, Label them something like "Kitchen – Dishes".  Or "Family Room – Books".  This way you know how to prioritize the unpacking.  Plates and flatware and glasses should come out first in case you may want to eat on your first night!  But we suggest take out or delivery on your first day.  Nobody has the time or energy to cook on day one!
Have you considered the style of your new home?  That Fragile Leg Lamp may not work in your new home.  Before you move, consider the esthetic of your new spaces before carrying over the dorm look!  So have fun when organizing your new home.  Have a solid plan ahead of time for where everything is going to go.  Be patient with and listen to your Family Members when considering placement of your items.  And above all, turn to B&K for your efficient moving services!
YOUR DELAWARE COUNTY MOVERS
We hope you found this tips useful!  Please look for more in our next blog! At B & K Movers, we treat your possessions as if they are Our own!  Additionally, We are insured and experienced and appreciate your business.  So if you are planning to move, please give us a call!  Visit our website for more tips and information.  And please follow / like us on FaceBook and Instagram!
We are hiring!
B & K Movers is hiring for laborers and drivers!
-Must be able to meet daily at the lot off of Oak Lane in Clifton Heights
-Able to lift/carry large and heavy furniture/equipment
-Driver:
-Clean driving record
-Pass a DOT physical
Schedule:
-Monday – Saturday
Job Types: Part-time with availability for full time hours
-$14.00 $20.00 per hour based on experience
To apply or for more information regarding open positions, please call B&K Moving at 610-446-3140 or 
email us
!